eSoftInfo Technologies is an IT company providing Technical Consultancy Service to the clients all over the world. We have state of the Growing City located in the Chhattisgarh, Rajnandgaon of India, Rajnandgaon with the best infrastructure and 24*7 connectivity.
Today eSoftInfo family is very much proud to say that we have raced against all the odds and made a world-class team of Creative Designers, Analytical Developers, Digital Marketing Manager, Mobile Developers and SEO Experts. eSoftInfo Team believes in the value which is "Gaining the Belief of our Valued Customers". And with this belief we have earned the Best Clients Worldwide.
We at eSoftInfo believe in Honesty and Transparency.
Our team is capable of implementing and executing large and complex assignments. We provide a special environment for Skilled, Creative, and Talented Professionals. We are equipped with all the Support and Amenities for providing Best Services.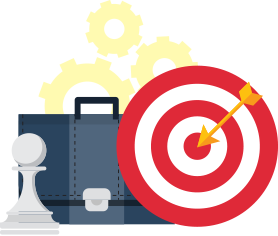 To continuously innovate our solutions and services to keep adding value to our clients. We endeavor to grow our clients' business by enabling informed decision making through technological and management interventions.
To build a world-class organization that is respected and revered by one and all. We intend to create value for all the stakeholders, i.e., all our employees, clients, vendors, and all the shareholders.
Work Together
Teamwork begins by building trust. And the only way to do that is to overcome our need for invulnerability." – Patrick Lencioni
Good communication
The team experienced effective communication. There were little misunderstandings and if teammates don't understand something, they sought to clarify immediately.
Good inter-relations
The team enjoyed good relations with one another. Everyone left feeling respected and valued. Google's research on the perfect team found that the way teammates treated each other determined whether the team was good or bad.
Individual development
On top of successfully reaching a goal, each member had the opportunity to develop new skills and experiences.
Support and trust
The team supported each other and helped when necessary. Everyone would be happy to work with this team again.